Saturday, May 31, 2008
i'm so adorable
Thursday, May 29, 2008
retro crew cut
Tuesday, May 27, 2008
scared kitties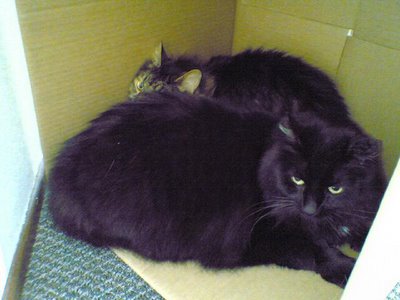 They had to spend a few hours in a big room they didn't recognize while the exterminator was visiting their usual abode. They came through it just fine and are now happily back in control of their kingdom.

Wednesday, May 21, 2008
microwave likes bacon
Sunday, May 18, 2008
Watch the Kitchen Remodel Time-Lapse Slideshow
Friday, May 16, 2008
Clouds over Sweeney Ridge
Milagra Ridge Sunset
Thursday, May 15, 2008
Some "Before" Shots of the Kitchen
Wednesday, May 14, 2008
done.
paint!
Saturday, May 10, 2008
Spices and Rack
Thursday, May 08, 2008
I have Marmoleum™!
Subscribe to Posts [Atom]